District 129 covers Plymouth, Roborough, Tavistock all of Cornwall and the Isles of Scilly
NOTICE BOARD

Thursday 14 November 2019, The Rally
will be held Falcoln Hotel, Breakwater Road, Bude. EX23 8SD
Church service at 11.00 a.m.

The Rally will be preceded by a Church Service at St Michael's Church, Bude and there is plenty of parking close to both venues.

Book through your Club Secretary please
-------------------------------------------------------------
Saturday 1 December at 15.30 Ashtorre Centre, Saltash

SALTASH invites Inner Wheel members, your partners, children or grandchildren
to join them for a Festive Afternoon Tea
with Mulled Wine on arrival
Christmas crafts table
Seasonal music from 4flutes
home made food
& a visit from Father Christmas.

Click here for full details
-----------------------------------------------------------

Wednesday 8 January 2020 at the Whealdream Restaurant 7.15 p.m.

HELSTON/LIZARD invite Inner Wheel members to join them for a talk on "Womens Well Being"


1 & 2 MAY 2020 GIN FESTIVAL

Helston/Lizard invite you to join them for a GIN FESTIVAL
Helston Guildhall - more details to follow

full details of on Club page of both events

------------------------------------------------------------
At the meeting at Trethorne on Wednesday 18 September 2019 the website was shown to all members present.
One of the suggestions that came forward was that Clubs could invite other members to join them when they feel their meeting would be interesting to other Clubs through the website.
If you have a Coffee morning or walks and you would like to invite other members. Please send details to the email below.
If you have any events you wish to publicize on this Notice Board
please send details to webmaster@innerwheelsw.org
..
We welcome new members from the area who are interested
in joining a group of Ladies who have an interest in the ideals of Inner Wheel.
Inner Wheel is one of the largest voluntary women's service organisations in the World.
We work together giving humanitarian aid nationally and internationally.
Inner Wheel Clubs meet usually every month.
The objects of this service organisation are:-
To promote true friendship
Encourage the ideals of personal service
To foster international understanding
Who can join Inner Wheel?
Women with a connection to Inner Wheel Members / former Inner Wheel members
Women with a connection to Rotarians / former Rotarians
Women with similar ideals with the club's consent.
If you are interested in joining a Club near you -
click on "Clubs" and find your nearest Club
and arrange to go along to a meeting
.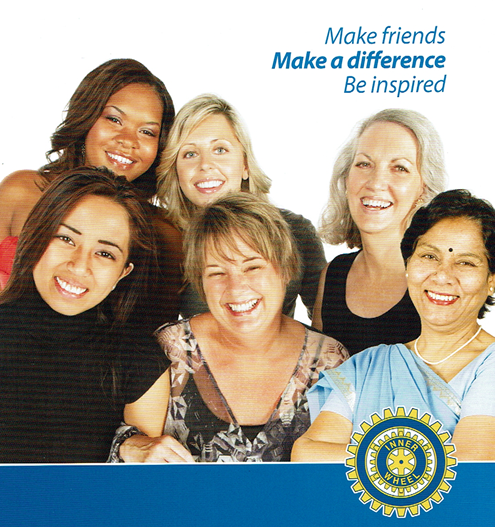 Site designed by w.wallis