I.W. Roborough
Presidents Garden Party held 14 August 2022 The Rotary President is Mr Graham Hayman.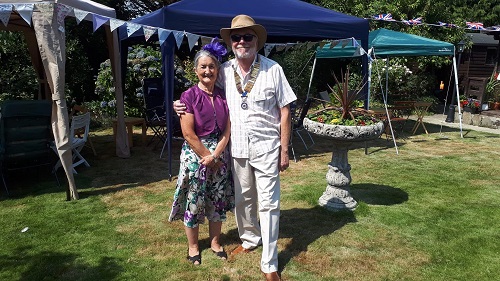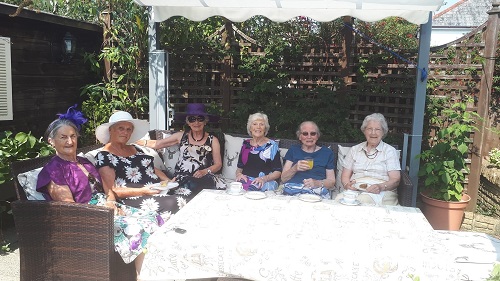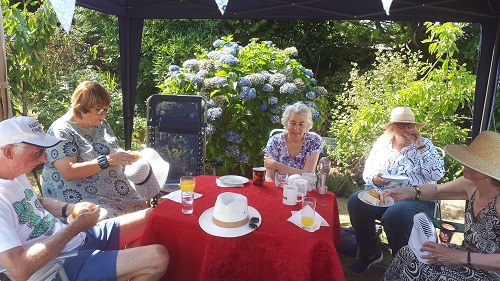 Ladies on the Saltram House Walk
I.W. Perranzabuloe
Once a month we meet for our "Knit and Natter" afternoon. We knit for various charities, making 'fidget' sleeves for dementia suffers, 'fish and chip' tunics and caps for new-borns for countries where the mothers have nothing to wrap their new babies in except newspapers, scarves etc. for the homeless, and so on. However, we mostly natter - knitting if not very prominent at these get-togethers. We now meet in Marsha's lovely garden (weather permitting) or indoors, and she provides delicious home-made cakes and tea or coffee. In July we were joined by Eleanor Wingrove, who recently moved from Cornwall, and was encouraged by one of our members, Helen to contact her local Inner Wheel Club. She subsequently was admitted to Solihull I.W. Eleanor was visiting Helen, so came to our Knit and Natter afternoon and was welcomed by all members present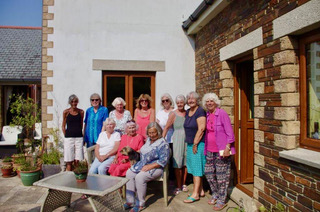 Members at the Knit and Natter afternoon hosted by Marsha (back left), with guest Eleanor (third from left, standing)
I.W. Helston/Lizard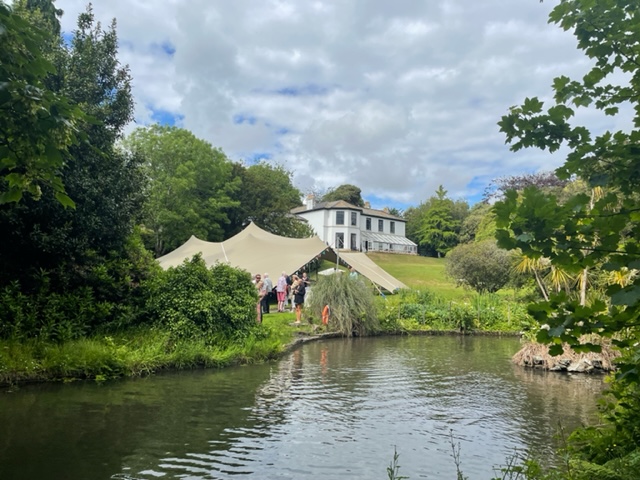 Adam and Sarah Corbridge, the owners of Lismore House, Helston, invited the Inner Wheel to host a fundraising luncheon to raise funds for the Stroke Association to commemorate the Platinum Jubilee of Her Majesty the Queen Elizabeth.
Sponsors
Our thanks to
Skybarweddings
for the marquee. Whealdream for the use of their catering facilities, Trevaskis Fruit Farm for giving us discount on the strawberries, Tesco's for providing a raffle for the event. Helston/Lizard Rotarians for all their support and to all the ladies who helped prepare the food.
I.W. Roborough
The Inner Wheel of Roborough celebrated their 45th Charter Anniversary at Boringdon Park Golf Club. A time for friendship and kind thoughts of those ladies no longer with us but a precious part of our past.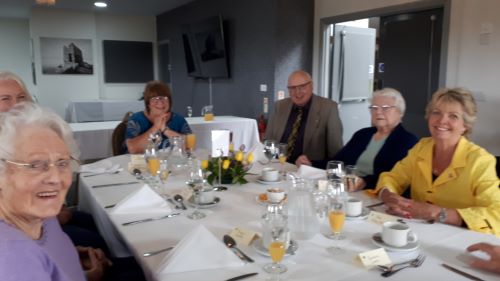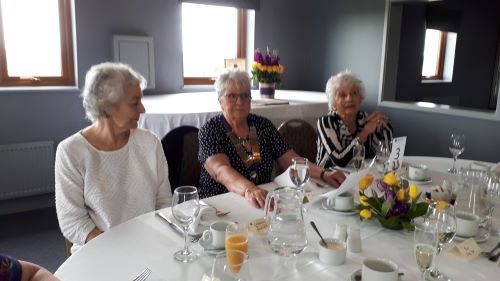 I.W. Truro
The Inner Wheel of Truro recently celebrated its 77th birthday at the Alverton Manor. Our first birthday celebration for two years without the threat of cancellation from the Pandemic!

After lunch we enjoyed a talk by Liam Shoesmith an award winning horticulturist. Liam has a passion for plants and design and as Head Gardener and Deputy Parks Manager for Truro City Council has been involved in the design work of flower beds throughout the city.

You can see from the smiling faces around the table what a joy it was to be enjoying an afternoon together with an interesting speaker. We were also delighted to welcome two new members Joyce and Jane and they are photographed with joint Presidents Maureen and Beryl and Vice President Yvonne.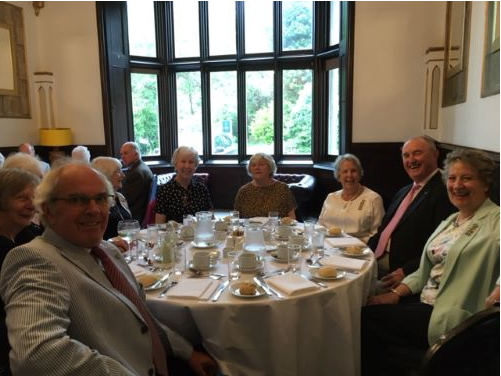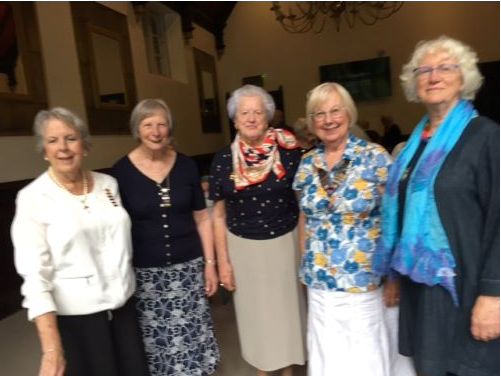 I.W. Helston/Lizard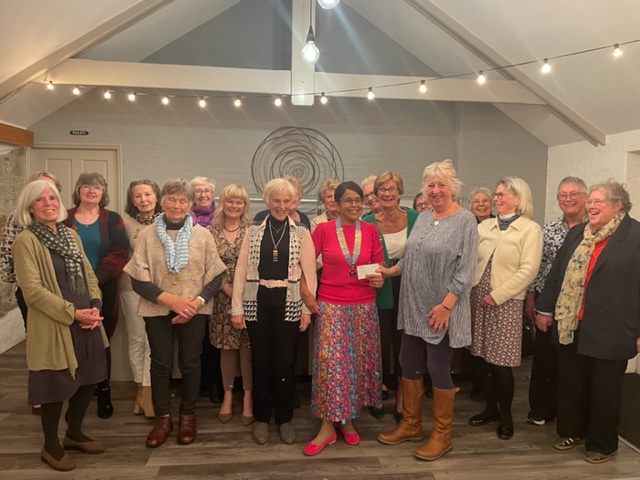 District Chairman Hilary Genes visited the Helston/Lizard 4 May 2022
Inner Wheel St Austell
St Austell I.W. have packed 63 boxes / suitcases with toiletries, 20 duvets, 12 new pillows and 10 sleeping bags all bound for Mission Moldova. An amazing effort, many thanks to all who helped / donated items and to Alison White, Rita Vincent and Ruth Hancock our hardworking International team.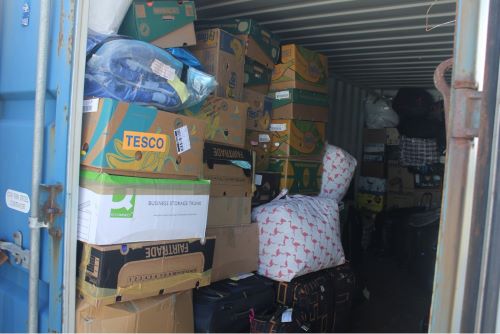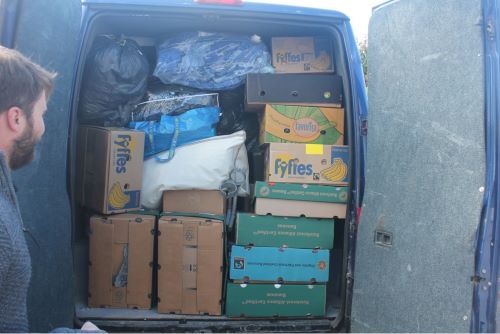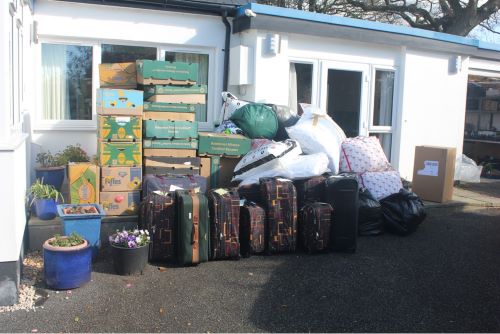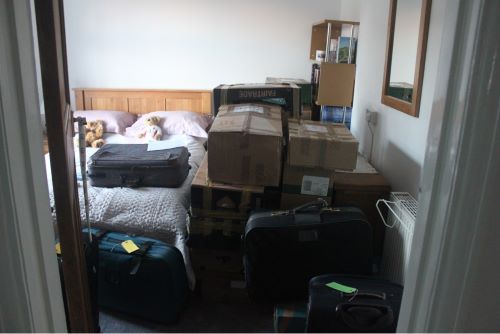 Inner Wheel of Truro
At 20.08 on 2nd March 2022 email circulated to Inner Wheel members of Truro and friends asking them to donate items desperately needed by the people of Ukraine in such desperate times.
In less than 24 hours we were overwhelmed by the generosity and kindness of local people who wanted to do something to help 16.00 on 3rd March One Volvo Car packed full
See full report below
Inner Wheel of Tavistock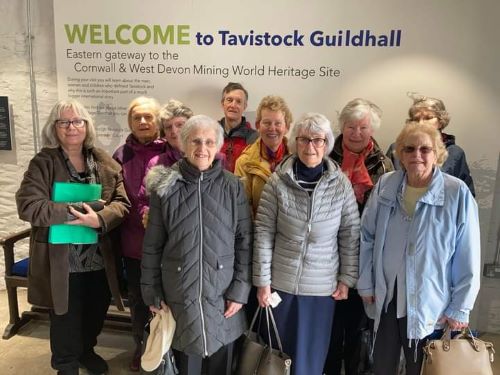 Tavistock Inner Wheel Club, district 129, seen here on a recent visit to the newly opened Guildhall and Heritage centre. They were shown around by Dr Geri Parlby, chair of the Heritage trust. She pointed out that this is a facility for the people of Tavistock to fully understand the town's past.
Inner Wheel of Roborough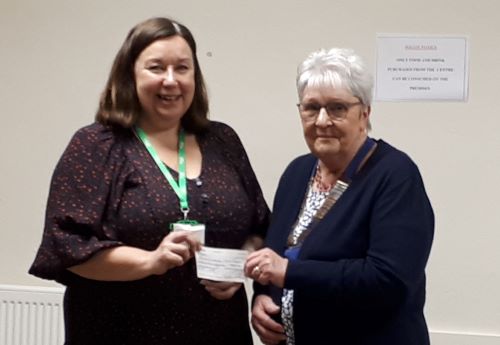 An Auspicious Evening Meeting for the Inner Wheel Roborough Ladies.

On Wednesday 23rd February the President of Inner Wheel Roborough Jan Dickman handed over a cheque for £2,345.00 to Miranda Benney the manager of the Mustard Tree Macmillan Support Services. This money had been raised by the ladies throughout the year.

Through personal experience Jan knew the wonderful work that the Mustard tree provides and chose them as her charity of the year.

Miranda gave a very informative talk about the work carried out by both professional and volunteer workers. They have a holistic approach for those people in need of support as they transition through cancer treatment. They provide practical support and complimentary therapies to help both the patient and their families face any fears they may have. They have continued to give advice right through the pandemic with phone call appointments, video appointment and the use of zoom. They have a facebook page and use Twitter, you can even have a virtual coffee and a chat.

A wonderful service for which we are very grateful. Thank you to all and all of the people involved in the Mustard Tree.
Inner Wheel of Truro
You are invited to a concert by the Loveny Choir
at Kenwyn Church, Truro on
Saturday 14 May
at 7.30 p.m. Tickets £8
Jubilee Fayre at Carnon Downs Church Hall on
Saturday 21 May 2 - 4 p.m.
Full details click here
Inner Wheel of Truro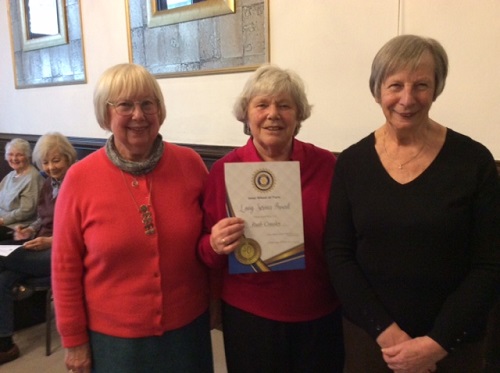 Presidents Maureen and Beryl were delighted to present Member Ruth Crossley with her Long Service Award at the Inner Wheel Club of Truro's Meeting on Tuesday.

Ruth's forty years of service to the Club has seen her take on the mantle of most Officer roles - more than once! She has always been fully involved with the Club's events and a good friend to all. Thank you Ruth for your long service and your lovely smile!
Inner Wheel of Roborough
The first Inner Wheel Roborough meeting of the year and we so enjoyed it. Our speaker this evening was the amazing Helen West, amazing because Helen has recently completed the 1011 mile cycle ride from Lands End to John O Groats. She spent 91 hours cycling and raised £12,000 in the process. Peak Tours were behind the scene and arranged everything so our lady was supported, along with others from morning to night. Helen had to complete a gruelling 10 week training program. She was not able to take her bike so hired one from Peak Tours but with her own saddle and pedals.
Helen told us that she did not look at the whole distance but concentrated on 20 miles then there would be a Tea break, 20miles and Lunch, 20 miles and afternoon tea,20 miles and Dinner, even if the distance between stops was more. Helen had it sorted in her mind that she could do this and do it she did. An incredible feat that not many of us would even think of let alone do. A fantastic epic journey which Helen told with such flair and comic timing.
Helen also presented our president Jan Dickman with a cheque as a thank you for the support the Inner Wheel of Roborough had given to Roborough Rotary during the Christmas Sleigh event. Monies collected go to local charities.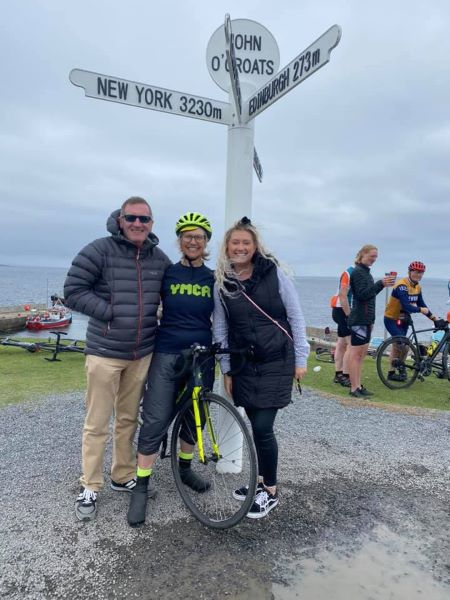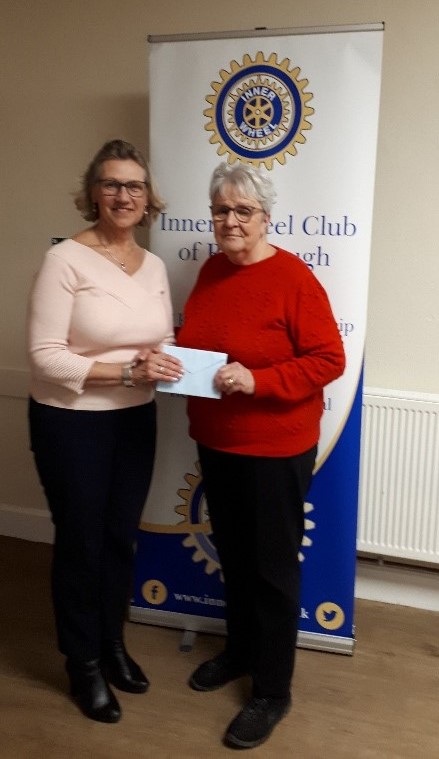 Inner Wheel Helston/Lizard
Karen Moseley, the President, invited members to afternoon tea to celebrate Inner Wheel Day
Inner Wheel Roborough
Inner wheel Roborough ladies enjoyed a very special get together to celebrate a grand birthday. Friendship and fun plus raising of some monies. We brought along scarves, some of which were sold, and learnt how to wear them in different ways. We also prepared all our used Christmas stamps ready to go to charity. Of course there was a lovely lunch which we all enjoyed. Grateful thanks to Penny for hosting the event. We all took flow tests before gathering together.