District 129 covers Plymouth, Roborough, Tavistock all of Cornwall and the Isles of Scilly
N O T I C E ...B O A R D
Dates for your Diary

District Rally - 10 November 2021- Lanhydrock Hotel and Golf Club

District Christmas Meeting - 8 December 2021 - Carlyon Bay Hotel

District Meeting - 17 March 2022 - Penventon Hotel, Redruth

District Meeting - June 2022 - TBA

District Meeting - 22 September 2022 - Trethorne



---
Liz Williams - District Editor
..
As I am sure you are aware, National President Betty Roberts has challenged all the members to walk 2.5 miles each this year, which would equate to Land's End to John O'Groats, in support of the Stroke Association.
She has had a teddy made who will visit each District to help with advertising this .
Full details click here

Vanessa offered to start the event off in style by taking him to Land's End and attached is a photo with a short write up and his 'postcard' home!!

Vanessa has also had a teddy made in IW colours to visit each of our clubs in the District to hopefully be photographed at various events, so I would like to think that we could get a good run of reports of this,




Presidents Vanessa and Sue of Perranzabuloe and Redruth were delighted to take Teddy down to Land's End to start him off on his tour of UK to raise awareness of both Inner Wheel and the Stroke Association. Teddy hopes to be able to raise some funds at the same time.
Keep an eye on the association Facebook page to follow some more of his adventures as he encourages the Inner Wheel members on their virtual walk from Land's End to John O'Groats.
He also sent his first virtual postcard to his 'Mum' Betty Roberts
Hello Mum,
Today I travelled in a car, not a box, it was great!
The weather has been hot here but this evening it was warm and comfortable.The sea, stretching out behind me was calm and the air was still.
President Sue Norfolk of Redruth and President Vanessa Hughes of Perranzabuloe were careful not to drop me over the edge.
We stopped at Marazion beach on the way home and I saw St Michael's Mount.
See you soon
Teddy
We welcome new members from the area who are interested
in joining a group of Ladies who have an interest in the ideals of Inner Wheel.
Inner Wheel is one of the largest voluntary women's service organisations in the World.
We work together giving humanitarian aid nationally and internationally.
Inner Wheel Clubs meet usually every month.
The objects of this service organisation are:-
To promote true friendship
Encourage the ideals of personal service
To foster international understanding
Who can join Inner Wheel?
Women with a connection to Inner Wheel Members / former Inner Wheel members
Women with a connection to Rotarians / former Rotarians
Women with similar ideals with the club's consent.
If you are interested in joining a Club near you -
click on "Clubs" and find your nearest Club
and arrange to go along to a meeting
.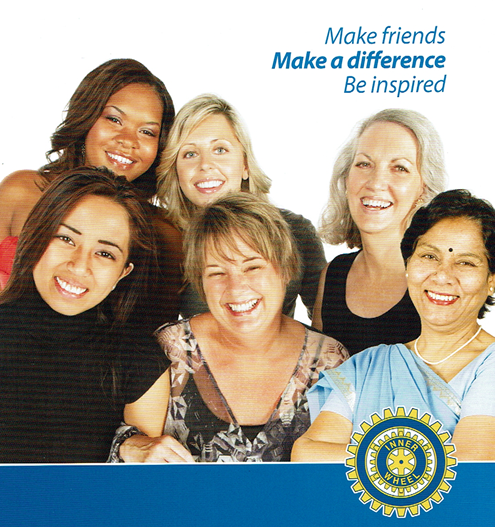 Site designed by w.wallis