TEDDY LAND'S END TO JOHN O GROATS
and her cousin Demelza's Journey
May 2022 a letter from Demelza
Dear Mum,
I am writing to let you know that during this Inner Wheel year I have had a few short holidays with Auntie Linda the President of the Inner Wheel club of Bodmin. One of my other Aunties is the District 129 chairman named Hilary, she is a member of the same Inner Wheel club as Auntie Linda. Auntie Hilary has been very busy this year, and is often visiting my other Aunties, so it seemed a good idea for me to stay at Auntie Linda's house occasionally, particularly as she has a few teddies and dollies of similar age.
You will be very pleased to hear that I have made friends at Auntie Linda's with Molly the Dolly, Charles the Bear, and the Inner Wheel of Bodmin's Friendship Dolly, who does not seem to have a name, so I named her Beatrice whilst I was here. We have had a lot of fun together. You will a photo below of a picture taken of us by Auntie Linda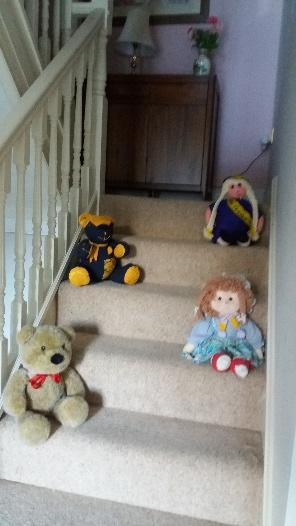 In April to support my Association President Auntie Betty's charity The Stroke Association, I joined the Inner Wheel ladies of Bodmin on their walk around Lanhydrock. It is a lovely place. I was very tired on the day as I had helped Auntie Linda with organising the walk, planning our lunch and organising photographs to be taken of the event. All the ladies loved me, one very kind Auntie named Sandy cared for me and carried me around the walk. I went to sleep for a while and did not wake up until I reached the café, where we met Auntie Norah it was her birthday, we ate lovely scones, drank coffee, and gave Norah some nice flowers and wished her a very happy birthday. Aunty Terri took a nice photo of me with Auntie Norah that you will see below.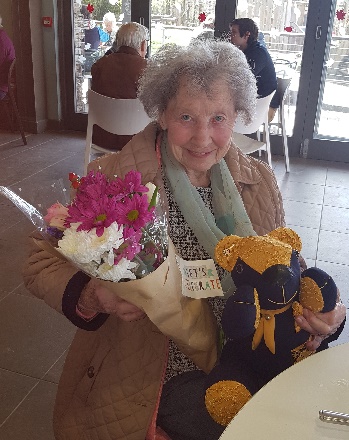 I have been staying with Auntie Linda again for a few days this month (May) , I was really pleased to meet my friends again. Molly, Charles, and Inner Wheel Dolly Beatrice. Auntie Linda's garden was looking really pretty, I asked her if she would take a photo of me with her Inner Wheel Friendship Dolly, under the magnolia tree named Susan. You will see the photo below.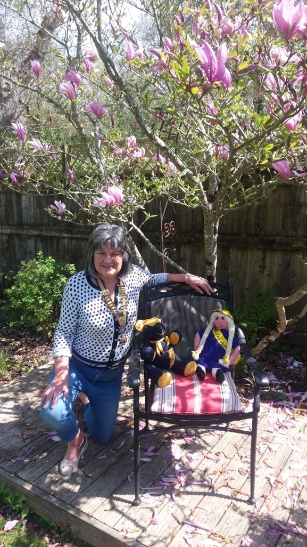 I had a lovely few days with Auntie Linda and my friends, but suddenly realised that my other Aunties in Redruth who I like a lot, wanted to see me again. So, after enjoying a lovely coffee morning with the ladies at Bodmin, I thanked them for all being so lovely, waved goodbye, blew lots of kisses and was then taken to the Inner Club of Redruth by my much loved Auntie Hilary.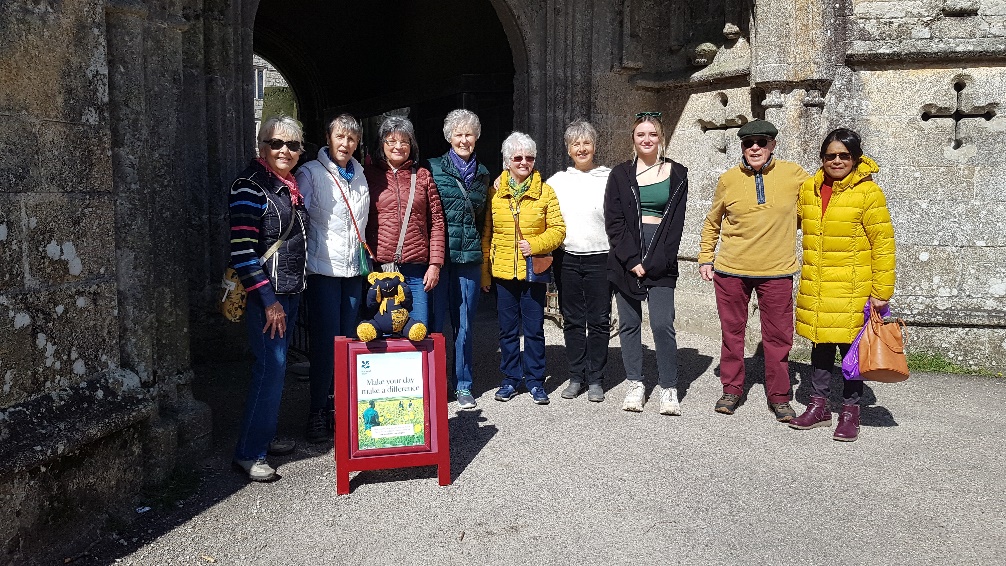 Photo of me with the Inner Wheel ladies of Bodmin at our Lanhydrock walk in April.

---
Demelza's tour of Cornwall continues (January 2022)
I met Auntie Hilary in Launceston at a place where the lovely lady, Auntie Joan had invited her to the Official visit to her club.This sounded interesting.
There were all these lovely ladies waiting around a large table that I could see as I popped up from the large box that Auntie Joan had safely sat me in.
I met this lovely lady who was wearing a chain with lots of beautiful badges with names on and she held me and gave me a big hug which felt nice, then I was sat on a large table, surrounded by lots of Aunties that I had already seen.

I heard a lot of talking and I was not really interested so I put my hands to my ears.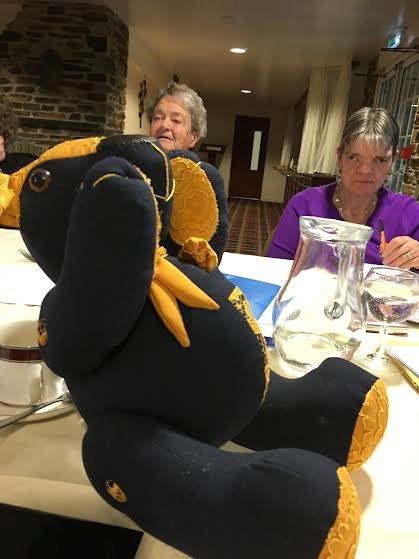 I don't know if they thought that I was rude but I was too small to sit on a chair and I wanted to see what was going on.

I heard a lot of talking by Auntie Joan then it was Auntie Hilary's turn to speak. I kept quiet as everyone seemed to listening attentively.

Auntie Hilary must have said some nice things as they all looked happy and they clapped.

Auntie Hilary then spoke about her funny experiences and the Aunties laughed and clapped again as she ended her talk. I wish I could have joined in, but what can a little bear do.


Then Auntie Joan thanked Auntie Hilary for her talk and gave her a cheque for her Charity and took a photo of us with me being held in Auntie Joan's arm.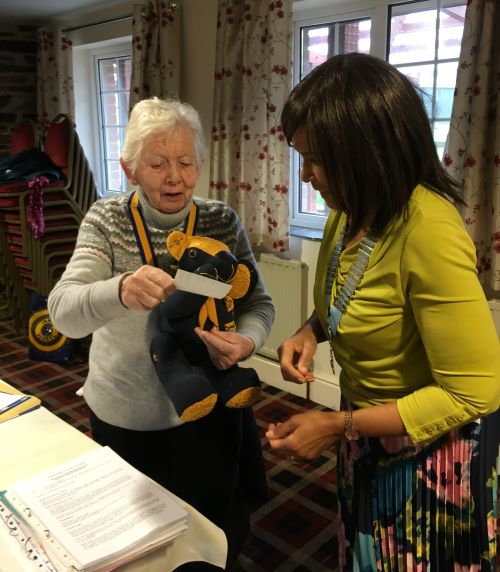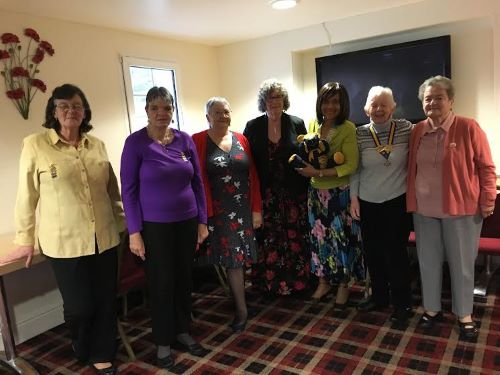 Wow! Wait till my cousin see this !! Hmm I am special!!!

The meeting soon ended and Auntie Hilary asked a nice man from the hotel to take a picture of the entire club and members with me in this lovely Auntie's arms.
What a wonderful time I had but I was very sad to leave Auntie Joan and all her lovely club members.

Auntie Joan put me back in the box for Auntie Hilary to return me to the Auntie I met before.My trip from Launceston was smooth and Auntie Hilary made sure that I was safe and spoke to me all the time until we arrived at her home in Bodmin.I was taken out of my box and sat with my old friends, a little bear and a puppy with floppy ears on her settee.

They made me welcome and I felt happy to be back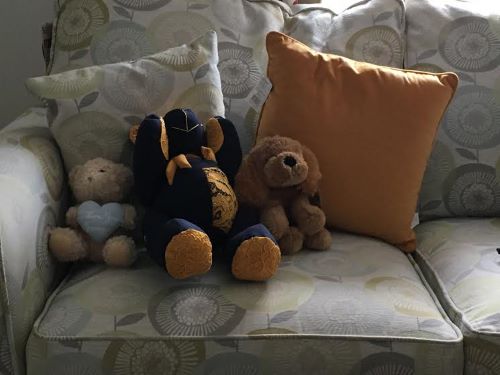 I watched tv with Auntie in the evening and then she took me out to see her friend who told me that I do a special job accompanying Inner Wheel ladies to places to raise money for a Charity that helps people who have had strokes.

I felt very special and now look forward even more to visiting other ladies on their walks etc

I look forward to meeting Auntie Linda later
---
Demelza's Journey

After the District Rally I went back in my box and travelled to Launceston with President Joan because I had said I wanted to help Teddy raise money for the Stroke Association. What would Launceston be like? Will I like it there? I needn't have worried as soon as I arrived I met Pooh Bear and all his family and they made me so welcome I knew I was going to enjoy my visit.
My first trip was to the Club meeting where a lot of ladies all gave me a cuddle. I sat on the table so I could see what was happening. The ladies all had a meal but there was nothing there I could eat so I just sat and listened to them. They had a meeting most of which I didn't bother listening to but then they mentioned me and I told them I was willing to go on a walk if they would sponsor me. I explained I couldn't walk too far because I only had short legs. They all promised to sponsor me, so now I have to wait for a good day to go. However before I had chance to set off I went to the local Rotary meeting and do you know they were all having a meal as well. I listened to a lady telling everyone how Shelter Boxes have updated and what they are doing. She was very interesting. Did you know Shelter Boxes was started by a Rotary Club in Cornwall? Then they all wanted to know why I was there and I explained about my Sponsored Walk I was going to do. They all laughed when I explained I couldn't go too far because of my short legs however several of them promised to sponsor me.
Soon good weather arrived and off we went (I had to have someone with me so I wouldn't get lost). To begin with I was carried on someone's back in a comfy bag but soon I popped out to see where we were. Oh dear all that water, I hope they don't expect me to get wet. No they didn't. We went along the coast and saw lots of people surfing and playing on the sands. I looked out to sea with a telescope but didn't see anything except sand and sea and lots of waves. We had to stop for a little rest (and a cup of tea) before heading back before dark. On our way back a lady sitting outside a beach hut called out to me and waved. Aren't people in Cornwall friendly.
I enjoyed my walk and was pleased I had been able to help but then I had to collect all the promised money, but everyone paid up with a smile.
Then it was time to go back to Aunty Hilary. What will my next journey be like I wonder?
Demelza
---
District Rally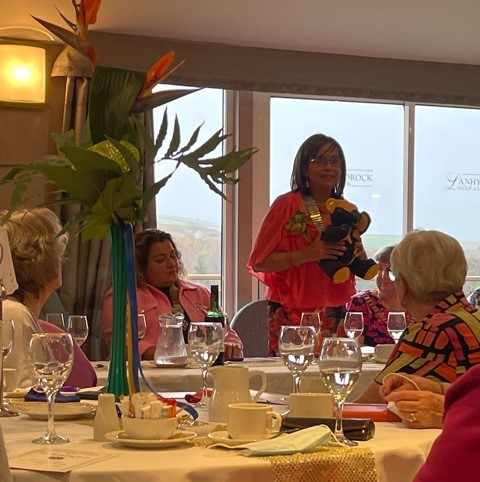 Dear Mum, Had a wonderful day at the District Rally and met my cousin from National Association. Take care, catch up soon. Teddy
---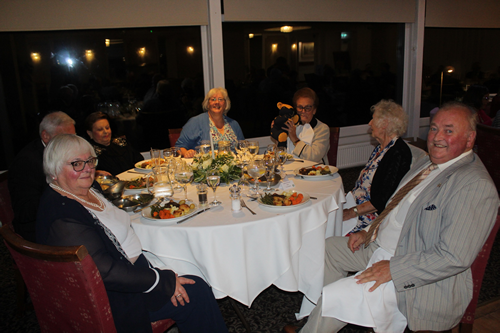 Dear Mum, This week I have been to Liskeard and Looe 60th Anniversary Dinner and there is a lot of photos do click here and have a look! I was exhausted! Love Teddy

---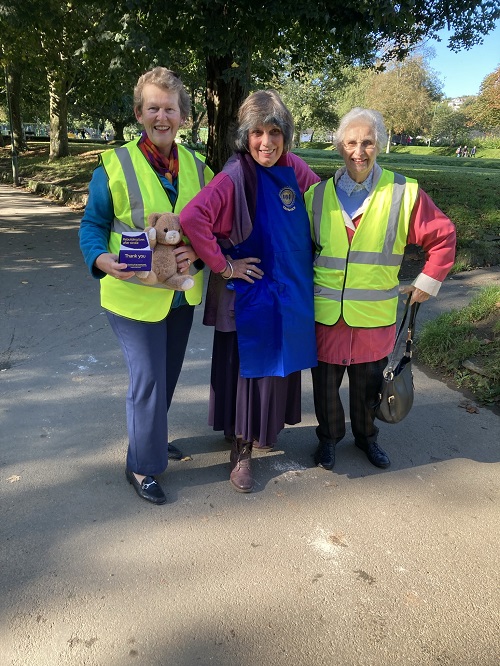 Sue Lake President of Tavistock club with VP Jan Beveridge and Ann Wrightam at the start of their walk in the Meadows in Tavistock ( with substitute teddy) for the Stroke Association.

Dear Mum, My owner took me from my comfortable bedroom and said I need you to come with me on a walk. I grumbled because it took me away from the comfy duvet I usually sit on, but she insisted. She put me in a bag so I couldn't see where we were going, and then after being shaken about for 15 minutes, took me out and it was glorious sunshine. She had met up with friends who all made a fuss of me and said what a beautiful teddy I was, and we were by a hut in the Meadow's in Tavistock. The coffee smelt lovely, but the ice creams looked even better, but she wouldn't buy me one. She said we were going on a walk for the Stroke Association to raise funds for this cause, because a close family member had a serious stroke and died as a result. A friend of hers went by with two large dogs, and they sniffed and growled at me but didn't come too close. She asked this friend to take a photograph of us which is on the website, and then we set off, walking slowly because one of our groups did the whole walk using two walking sticks, which I think was pretty amazing and jolly hard work. After one circuit of the Meadows we had to stop for a coffee and to catch our breath, but then my owner decided she was going to do more steps; she had this funny thing on her wrist which looked a bit like a watch which counts her steps and said she couldn't stop until she'd walked 20,000 paces each day. I couldn't keep up with all the different sights I saw; the river rushing by, the children on the swings, the swimming pool and all I can say is I was exhausted when I finally got home and so glad I didn't have to walk those steps myself. I still don't quite understand why she did it!

---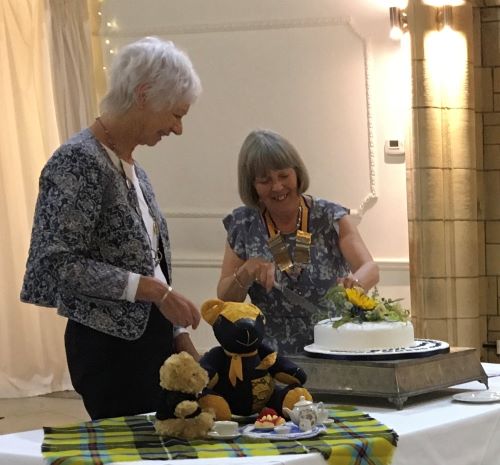 Hi Mum

I met a really nice guy today on my visit to Truro Inner Wheel! His name is Perran! We had a lovely walk round the garden, at the Alverton Hotel in Truro, and then we joined in the Club's Birthday celebrations! They had to put off their celebrations last year, because of Covid, but finally managed to have them! We had a gorgeous cake, made be IW member Beatrice Dyer and had our photo taken with past Presidents, Anita Bryce and Marjorie Edwards, before they cut the cake! it was deeeelishus!!!Got to rush now! On to my next meet up! Sad to say goodbye to Perran but maybe we'll meet again! Lots love! D x



---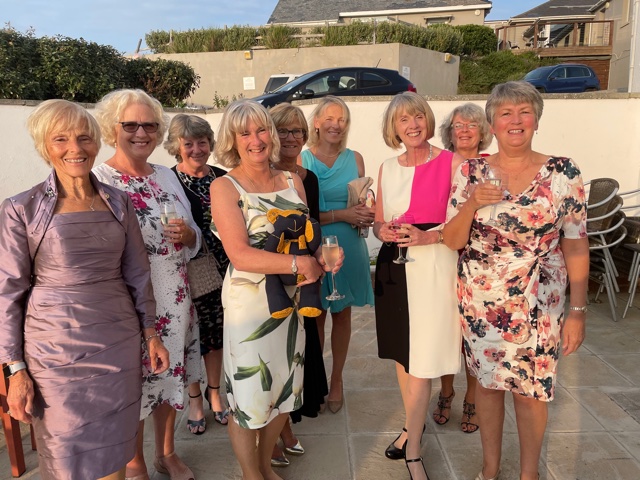 Dear Mum I had a wonderful evening last night (4 September) with the ladies of Inner Wheel Helston/Lizard. I am in the arms of the President Karen Moseley. I was a special guest at the Rotary President's Night at the Pollurian Hotel, Mullion and had my photo taken with some Inner Wheel Members who made me feel welcome and they are going to fundraise for the Stoke Association. Take care, see you soon, Love Teddy