TEDDY LAND'S END TO JOHN O GROATS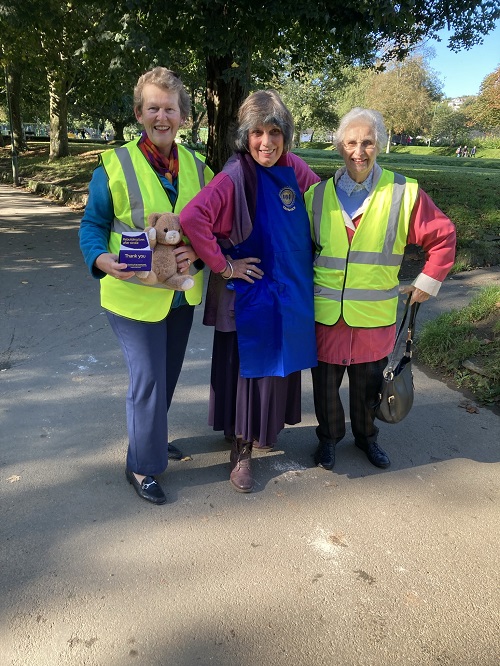 Sue Lake President of Tavistock club with VP Jan Beveridge and Ann Wrightam at the start of their walk in the Meadows in Tavistock ( with substitute teddy) for the Stroke Association.

Dear Mum, My owner took me from my comfortable bedroom and said I need you to come with me on a walk. I grumbled because it took me away from the comfy duvet I usually sit on, but she insisted. She put me in a bag so I couldn't see where we were going, and then after being shaken about for 15 minutes, took me out and it was glorious sunshine. She had met up with friends who all made a fuss of me and said what a beautiful teddy I was, and we were by a hut in the Meadow's in Tavistock. The coffee smelt lovely, but the ice creams looked even better, but she wouldn't buy me one. She said we were going on a walk for the Stroke Association to raise funds for this cause, because a close family member had a serious stroke and died as a result. A friend of hers went by with two large dogs, and they sniffed and growled at me but didn't come too close. She asked this friend to take a photograph of us which is on the website, and then we set off, walking slowly because one of our groups did the whole walk using two walking sticks, which I think was pretty amazing and jolly hard work. After one circuit of the Meadows we had to stop for a coffee and to catch our breath, but then my owner decided she was going to do more steps; she had this funny thing on her wrist which looked a bit like a watch which counts her steps and said she couldn't stop until she'd walked 20,000 paces each day. I couldn't keep up with all the different sights I saw; the river rushing by, the children on the swings, the swimming pool and all I can say is I was exhausted when I finally got home and so glad I didn't have to walk those steps myself. I still don't quite understand why she did it!

---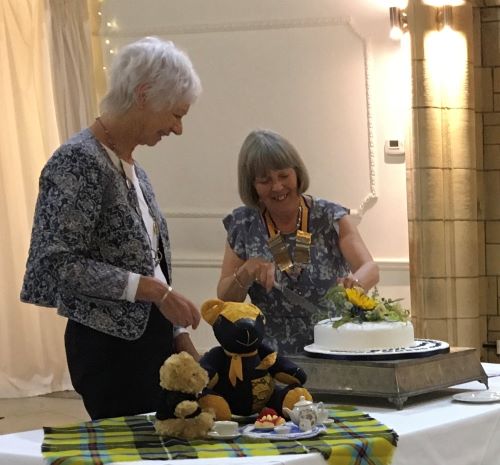 Hi Mum

I met a really nice guy today on my visit to Truro Inner Wheel! His name is Perran! We had a lovely walk round the garden, at the Alverton Hotel in Truro, and then we joined in the Club's Birthday celebrations! They had to put off their celebrations last year, because of Covid, but finally managed to have them! We had a gorgeous cake, made be IW member Beatrice Dyer and had our photo taken with past Presidents, Anita Bryce and Marjorie Edwards, before they cut the cake! it was deeeelishus!!!Got to rush now! On to my next meet up! Sad to say goodbye to Perran but maybe we'll meet again! Lots love! D x



---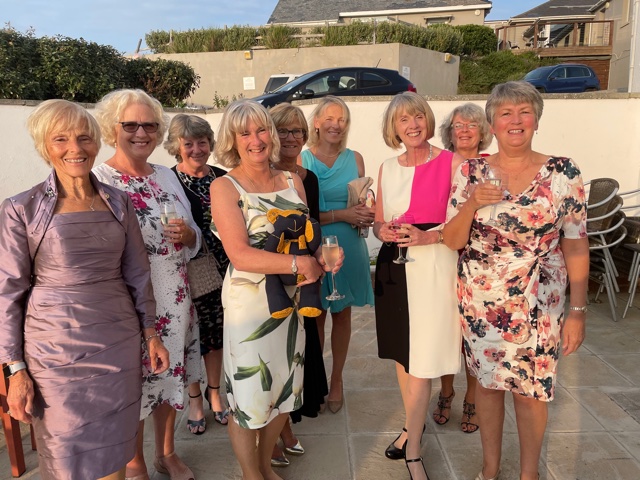 Dear Mum I had a wonderful evening last night (4 September) with the ladies of Inner Wheel Helston/Lizard. I am in the arms of the President Karen Moseley. I was a special guest at the Rotary President's Night at the Pollurian Hotel, Mullion and had my photo taken with some Inner Wheel Members who made me feel welcome and they are going to fundraise for the Stoke Association. Take care, see you soon, Love Teddy